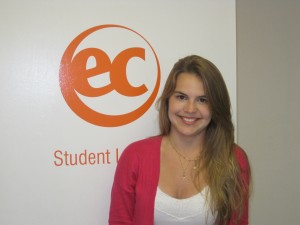 Bianca is from Rio de Janeiro in Brazil, where she is a famous actress. She got her start in acting back in 2005 after her father took her to an audition. Her interest in acting grew as she realized how enjoyable it was. Since then, she has appeared in films and soap operas such as "Cama De Gato", which is one of the most watched soap operas in Brazil. She also did the Brazilian version of the voices from the movies "Lilo & Stitch", "Finding Nemo" and she was Lucy, the little girl in the movie "Chronicles of Narnia".
Her performance in "Fina Estampa" was well received and earned her a scholarship to pursue her education. She used the opportunity to study English and was very happy that her agent recommended EC. She chose to study English at EC San Diego because of the amazing weather and location of the school in beautiful La Jolla. She is very happy with her experience here in San Diego and would recommend the school. In addition to acting, Bianca is also interested in Engineering and is planning on attending university in the near future.
Before acting, Bianca was a professional athlete. She did ballet, acrobatics, running and even diving for 2 years. When she is not acting, Bianca enjoys travelling and will be going to Orlando after her English studies at EC San Diego. She plans to travel to other US cities. She also enjoys learning other languages and would like to be fluent in English, French and Chinese.
Comments
comments