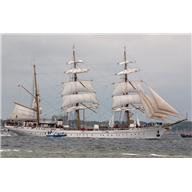 The port of San Diego Festival of Sail which is sponsored by Maritime Museum kicks off today. A floatila with more than a dozen tall ships will enter the San Diego bay. You will be able to see it from downtown Shelter Island, Harbor Island, Coronado Island and the Cabrillo National Monument.
Drive or take to bus downtown to North Harbor Drive between Ash and Grape streets because for 5 days these streets will be turned into a nautical theme park with tours of ships from around the world. The festival will end on Monday, September 3rd which is also Labor Day.
Tickets are only $10.
For more information and tickets, please visit http://www.sdmaritime.org/shop/fos/fos-tickets.html
Comments
comments