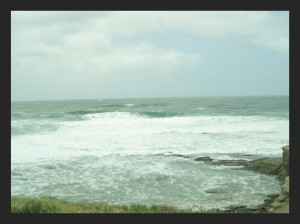 EC San Diego is located in beautiful La Jolla, CA, one of the only places in the country that could be deemed a true "riviera". While studying English at ECSD, students often want to know where to go to find the best Southern California beaches in the area. Whether you are searching for a pristine stretch of sand to sun-bathe, good swimming areas, awesome surf spots, or fire pits to host a get-together after class, you can find what you are looking for within minutes of ECSD!
1. Wind-n-Sea Beach (tanning, swimming, surfing, beach volleyball): located in the community of Bird Rock between La Jolla and Pacific Beach, Wind-n-Sea Beach is a favorite of  local San Diegans. The beach offers surfing, lots of space to lay out and read, and swimming-only areas (lifeguards are on duty all summer). The atmosphere is very laid-back and quiet since the beach is in a residential community. Check out Wind-n-Sea to sit back, relax, and enjoy one of the most beautiful beaches in Cali!
Directions From ECSD: Head South on Prospect Street, continuing onto La Jolla Boulevard. At Nautilus Street (about 2 miles), turn left and head straight for the horizon!
2. Pacific Beach Boardwalk (tanning, swimming, surfing, beach volleyball, biking, restaurants and shopping): Pacific Beach is San Diego's best place to go when you want some fun in the sun! During summer the boardwalk is filled with locals, students on break, and tourists alike as they share in the fun party atmosphere of PB. Rent bikes and ride on the boardwalk, or try boogie boarding with your friends! Then head to Garnet Ave. when the sun goes down to meet great people, eat good food, or shop! Visit PB if you want to experience San Diego's favorite playground!
Directions from ECSD: Head South on Prospect Street continuing onto La Jolla Boulevard until it ends at Mission Boulevard. Turn left (South) on Mission Boulevard. The beach and boardwalk start at Garnet Ave. and continue down the boulevard into the area called "Mission" Beach.
3. La Jolla Cove (snorkeling, swimming, park with picnic tables): The world-famous La Jolla Cove is just steps from EC San Diego's location! The Cove itself is the best swimming beach in the La Jolla area and is relatively small which reduces beach traffic. Snorkeling at the Cove is an experience you have to have while learning English at EC San Diego – bring a bag of frozen peas in the water with you to attract lots of fish! Near the cove is a large open park area to hang out and have a picnic, play soccer, and lay in the sun.
Directions from ECSD: Walk down Prospect Street about 100 feet and enjoy!
4. Ocean Beach (fire pits, swimming, tanning, beach volleyball): Ocean Beach is where to go when you want to enjoy the most laid-back part of San Diego. The hippie beach vibe of OB starts at the beach and continues on into the village center – there are great restaurants and second-hand stores to explore throughout the area! OB also offers fire pits and picnic tables for beach parties!!
Directions from ECSD: Head North on Prospect Street, turning right onto Torrey Pines Road and continuing on La Jolla Parkway. Turn onto the 1-5 freeway heading South. After about 2 miles, take the Exit "Sea World Dr./Tecolote Road" and turn right onto Sea World Drive. Follow in the left lane until it becomes Sunset Cliffs Blvd and stay on Sunset Cliffs in the rightmost lane to reach Ocean Beach (Newport Ave. is the main street, so start there!). The beach begins at Point Loma Blvd.
A few others to check out while learning English at EC San Diego: Del Mar (North County SD), La Jolla Shores Beach, Encinitas/Moonlight Beach (North County)
Let's go the beach!!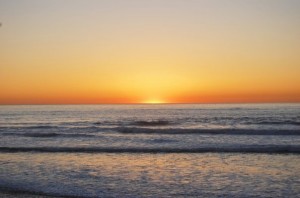 Comments
comments