Friends hanging out, a warm fire, good food, and the feeling of cool sand between your toes – it's impossible to resist! That's right – a summertime beach bonfire in San Diego! Every city in the world has bars and clubs and concerts, but San Diego has the beach, and it's open and free for everyone!
Want to relax, listen to the waves, and watch the sky darken after a day of studying English at ECSD? Here are the top Staff picks for where to go and what to bring to make an unforgettable beach bonfire!
WHERE: Mission Beach and Mission Bay have free bonfire pits open daily from 5AM to Midnight. Mission Bay is more private, while Mission Beach's bonfire pits are in a prime party area for San Diego locals, near bars, restaurants, and shops. Ocean Beach also has free bonfire areas (daily, 5AM to Midnight) that are near beach volleyball courts and downtown OB, otherwise known as the epicenter of San Diego hippie culture c.1969. OB is also San Diego's only 24-hour dog beach, so bring pets and play on the sand!
WHAT: San Diego allows fuel sources from paper, wood, and charcoal only – no trash, please! Build your tee-pee structure in the pit (see photo), putting paper underneath and in-between the wood as kindling. Light the paper first, placing the match (bring long ones to reach) on different parts of the kindling. The paper will burn quickly, but the wood will catch. And then…a roaring bonfire! Bring extras of the kindling and wood to keep the fire going all night long.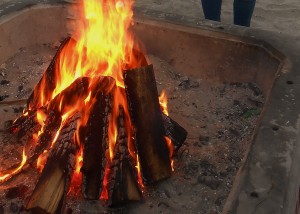 Also bring s'mores ingredients: marshmallows, chocolate, and graham crackers. Wire hangers that have been straightened work perfectly as skewers – roast the marshmallows over the fire until slightly melted and/or charred. Without using your hands, place the marshmallow (still on skewer) between the two halves of a graham cracker with a piece of chocolate inside (think "sandwich" style). Remove skewer slowly while pinching the sandwich, and, voila! The perfect beach party treat!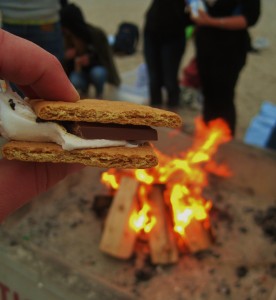 When the bonfire is winding down, make sure to take all belongings, throw away trash, and to put out the bonfire with water and sand (extremely important: embers from a fire can drift and catch somewhere else beyond the bonfire area)!
And of course, tell your ECSD staff how it goes when you come to class the next day!
Comments
comments