What to Do in San Francisco
SF is a culturally diverse city with tons of possibilities for extracurricular activities.  Get your friends together!
Participation is key to having a fantastic experience at ECSF.  Why not participate in some (or ALL) of our activities here?  There's no better way to meet new students while exploring the historic city of San Francisco.  This week includes the Castro Tree Lighting Ceremony at the famous Castro District, The Hood! (an in depth class that explains the history of different SF neighborhoods), an art class, and more!
Don't miss out!  Especially if you're a new student, this is an opportunity to get an education outside the classroom by immersing yourself in the culture of the city you're studying in.  If you didn't already know, we have a new Activity Calendar EVERY week that is posted on Facebook on Fridays so you and your friends can plan what you'd like to do during the following week.  If you want to sign up for an activity, simply come to the front desk.  It's that easy!
Here's a great picture of some students at Off the Grid, a famous food truck festival held every Wednesday in Berkeley.  Look for this activity in the future!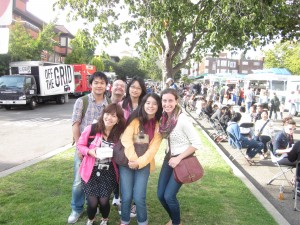 Comments
comments