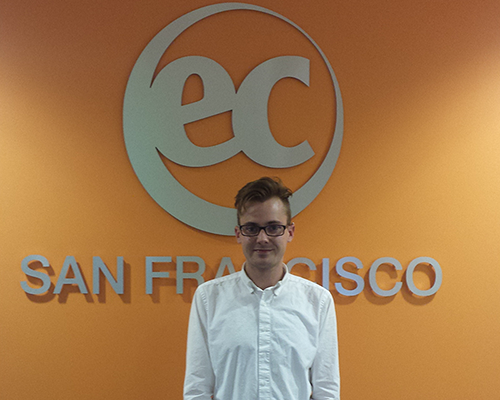 My name is Craig Carey, I am from New Zealand but have been living in San Francisco since 2013. I hold bachelor degrees in English and Philosophy, as well as a certificate in TESOL tutoring. In the past I have worked with a range of organizations in the education sector including professional bodies, students associations and nonprofits. I have travelled to 11 countries, including as an exchange student to Japan.
In my free time I like to spend time outdoors hiking, exploring the bay area or relaxing in the park or at the beach. In the evenings I like to see films and live music. I also like to take part in local community events and organizations.
I started work at EC San Francisco at the beginning of February and have spent the month settling into my new role.
The best thing about EC is that everybody who works and studies here is part of a global community. I love working with students and seeing them progress and gain more confidence in their English. I also enjoy working with likeminded host families who enjoy sharing their cultures and learning from their students.
My advice to students is to make the most of the time you have in San Francisco. See the city, explore and talk to locals. There are many amazing things to experience.
My favorite thing about San Francisco is the network of parks. Look on a map and see how there are small parks everywhere at the top of hills and in hidden corners of neighborhoods. They often have the best views and unexpected surprises. ​
Comments
comments