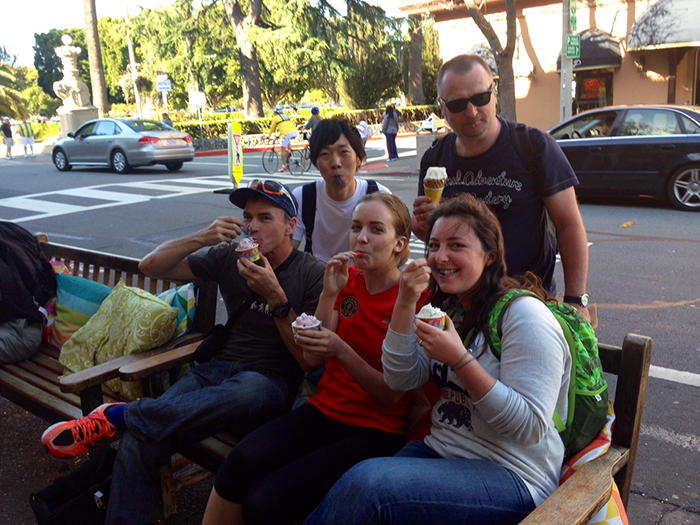 We got mostly new bikes this time and with little wind and traffic, it was a warm day on the bikes with getting a tan a new perk for the journey!
This time the warming hit, the cafe on Crissy field, was open after renovations, and we got a coffee to power ourselves up the small hill to the GG bridge where we were rewarded by a perfect view of Baker beach and the city right under the second span– then gliding down and under the bridge we were treated to spotting various sea lions showing off to attract fisherman to throw out more bait.
We took in the Mediterranean vistas rolling down finally into our destination, with  the best deli in town awaiting us past the expensive tourist traps, we ate at Driver's marketplace, all organic of course!
We had time to wander by foot around Sausalito and slurp homemade ice cream and catch the trance-like views of SF before taking the ferry boat home,snapping shots of Alcatraz which looked like a birthday cake from afar until we cruised 40 yards from it!
A very relaxing time for all–and no one had sore legs the day after, but a few did wear more pink than before (forgetting to put sunscreen on!).
Thanks for letting me show you around my beautiful town–I can't wait to ride again!
Have fun and learn English in USA!
Comments
comments