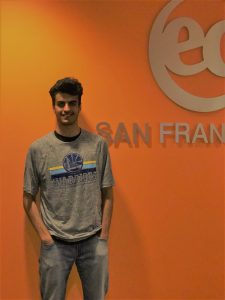 "At last! I scored 6.5" – our brilliant student ambassador, Aziz
Aziz is a student from Riyadh, Saudi Arabia. He joined EC in March 2018 after receiving a full scholarship from the Ministry of Education in his country. The reason he joined us was to achieve a proficiency level that qualified him to register for the IELTS: a requirement to get accepted in a university. When he started, we placed him in the Elementary level. He worked hard through levels to reach Upper Intermediate. He finally qualified to take the IELTS for the first time, and then five more! He needed a 6.5 score, but he kept getting 6. We worked with him on a daily basis training him for the test. He's achieved the highest level of proficiency at EC! He's been here for over 60 weeks. Aziz has got 6.5. Finally, he graduated to attend college here in the U.S. on a full scholarship! We will miss Aziz and wish him the best of luck!
Do you want to attend our English Language School? Visit our website!
Comments
comments