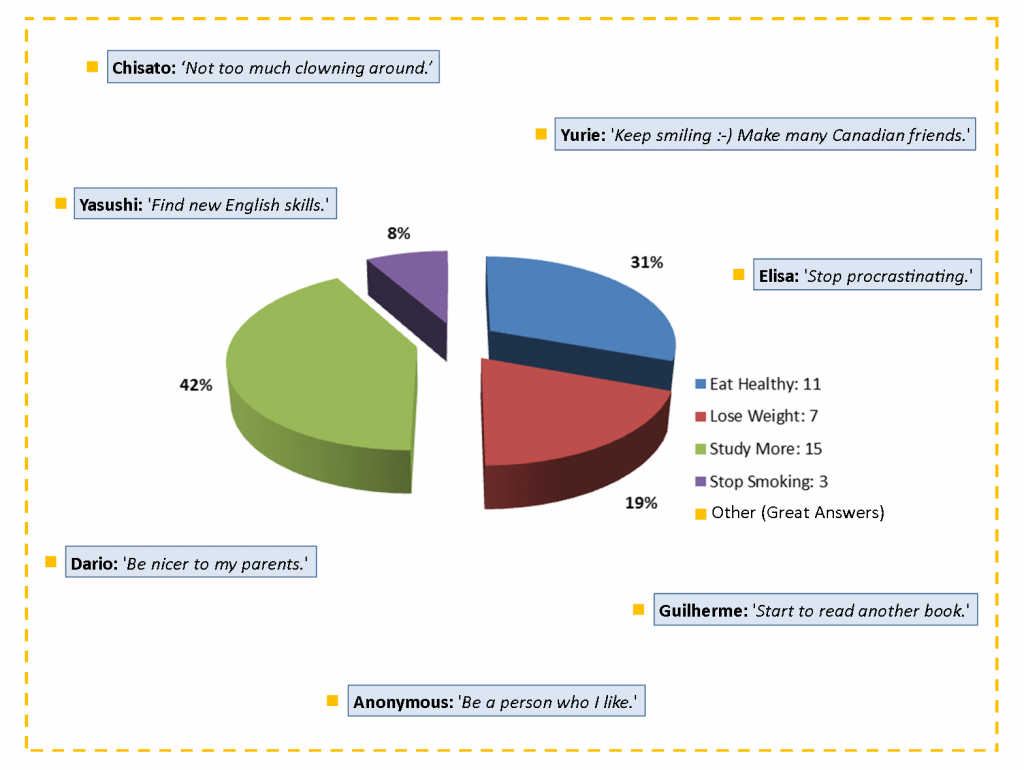 The new year has started already, so we thought it would be a good time to ask our lovely EC Toronto students about their New Year's resolutions. WOW – we got responses from 25 of our students!
We were happy to see that most of them want to study more. That's great! Good for them that they are studying at one of the best language schools in Toronto, right? At this point we want to mention that we are offering free workshops for different English levels for our EC Toronto students! The next workshop topics and dates are:
Resume Building I on January 16, 2013
Job Interview Skills on January 23, 2013
Resumes & Cover Letters II on January 30, 2013
Pronunciation Practice for Korean Speakers on February 6, 2013
Pronunciation Practice for Arabic Speakers on February 13, 2013
For more information or to sign up please see our student counsellors on the 4th floor at EC Toronto. We are waiting for you! 🙂
And almost all of the students who responded are willing to change to a healthier lifestyle. This is a great decision!
Our EC Toronto students also had the chance to add their own personal resolutions. Some of their wonderful answers are:
Chisato: Not too much clowning around (But we like you just the way you are Chisato!)
Yurie: 'Keep smiling 🙂 Make many Canadian friends' (You have many Canadian friends Yurie. Everybody in the EC Toronto office is your friend. :-))
Dario: 'Be nicer to my parents.' (That's always a good and desirable resolution!)
Elisa: 'Stop procrastinating.' (Oh yes! We think almost everybody has this as her/his New Year's resolution.)
Guilherme: 'Start to read another book.' (Yes, you can improve your reading and speaking skills if you read the book aloud.)
Yasushi: 'Find new English skills.' (Good luck Yasushi!)
Anonymous: 'Be a person who I like.' (We like you, whoever you are! :-))
Thanks to everybody who helped us with our poll!
Your EC Toronto Team
Comments
comments