Things to do along Yonge Street this week-end!
First of all you have to know some things about this street, because it's really peculiar.
It cuts Toronto into two parts
Indeed Yonge Street begins at Lake Ontario and crosses the entire city heading north until Richmond Hill. All streets, roads or avenues crossing Yonge are divided in two parts. Do you know the address of our awesome EC Toronto? 124 Eglinton Avenue West 🙂
It is listed on the Guinness Book of Records
Do you know why? Because Yonge Street is the longest avenue of the world, with 1896 kilometres! It crosses the province of Ontario from south (Toronto) to north (Lake Simcoe).
Yes, yes, but I want to know what I can do this week-end!!
Don't worry, we are coming to that. You can go shopping at the Eaton Center,  a huge mall in downtown. It's sure, you will find all you want there! If you prefer you could go to Panasonic Theatre to see the musical phenomenon Cats, with an all- Canadian cast. If we are lucky and the sun stays here until Saturday you can enjoy drinking a healthy smoothie at Dundas Square, or simply walk along the street.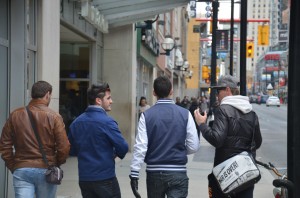 Sunday morning the Yonge Street 10K run will take place, a really famous marathon in Canada. Yonge will be closed for cars until 11am for the race, and you can easily see it along the way. The start is near EC Toronto, at Yonge and Eglinton, at 9 AM. Of course, everyone will have the recent events in Boston on their minds, so in addition to extra security, the slogan of the race is "Runners in Support of Boston".
Keep checking our blog and FB page http://www.facebook.com/ecenglish.toronto for more information about what to do in Toronto, designed especially for our EC students.
Comments
comments