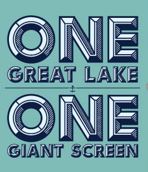 Who would refuse to watch some movies on Lake Ontario?
Get ready for this summer because the Sail-In Cinema returns to Sugar Beach from August 17th to 19th. You will be able to enjoy some movies either seating comfortably on land, or, sailing in.
This 40 by 30-foot two-sided screen is going to be hosted by the Toronto Port Authority (TPA); and although the screening is free, it should be necessary to have a ticket because capacity is limited.
What we don't know right now is what movies they are going to present this year, but we will be updating our information to tell you the details.
Comments
comments