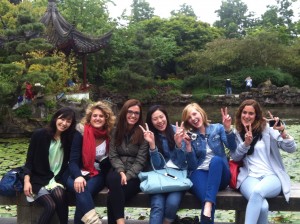 Alexa Singer ( second from the left) is a student from Italy.
I have already been studying English for many years, attending language courses in different schools in England as well as in Ireland. Some of my experiences were so great that I desired more of them. However, I couldn't stand the "British weather" anymore and wanted to try something new; so what could have been a better choice than the beautiful sunny and warm Vancouver?!
The big LSC/EC Vancouver building is the place where you will meet people of many different nationalities (although much more of some and much fewer of others :)) and also friendly and funny teachers.
It is great to get to know people from all over the world, to compare different habits and traditions and also to know, that wherever you'll go, you might have a friend you can visit.
Furthermore, in my opinion, being in a host family is highly recommendable. Staying with a family could possibly require some adaptation to different rules or habits you are not used to, but it is worth it.  It doesn't just mean having a daily and nightly support it also gives you the chance experience real Canadian life and routine by going out with the family when they offer you a chance to join them at  events.
In conclusion, I think everyone who has the opportunity to have such an experience should take the chance because going abroad is the only way to see and get in touch with a specific sort of things and to broaden your mind. Next to this, it also helps you to become more independent and last but not least, you'll have fun!!
Comments
comments