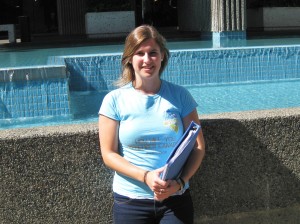 Cynthia Meyer, from Switzerland, works for a Tour Company in Vancouver (Unpaid Co-op) and here it is what Cynthia says about her co-op experience:
 "It's the first time that I'm a part of a co-op program and I can say I have had quite a good experience. The company that organised my co-op is really helpful and friendly and they are very focused to find a job in the area you selected or in an area you have work experience in your home country. Another reason is they are really close to the EC Building. Although you stay always in contact by email, so it's very easy if you have any questions or you need help with anything.
 -The office where I have my internship is located on Granville Street in Downtown Vancouver, so I don't have a difficult way to get there and I'm close to everything downtown.
For our school visits during the lunch we don't need to walk far to get there as well. Then we're 6 interns in our office and most of us are the same age and we have a lot of fun. We have just to bring our own laptop and in the office every one of us has his/her own desk where we can welcome the students who want to book a trip or just to have some information.
 -Yes, of course it's really helpful to improve your English because you really speak English every day and you work with Canadians. So you learn a lot of typical Canadian/Vancouver expressions. You become more self confident because you have to promote the trips in the schools and there you have to talk, and there is no chance to be shy – the same happens in the office.
-The best part about this internship is I have the chance to meet so many other students and have many experiences about Canada or other cultures – and in my case the travelling for free! 
-Yes, I do recommend the co-op programme, because I think if you are new in a foreign country you don't know exactly their habits and it's hard to find a job/internship on your own. With the co-op programme you have the support and they know where they have to look for a perfect job for you and help you to prepare for a job interview and the resume as well. In the end you are ready for your job interview and to get an internship in Canada.
-I would say "just do it, it's a great chance to improve your English in an interesting and easy way and it's a good alternative option to school!".
Comments
comments