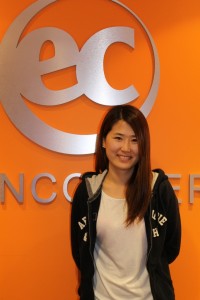 I have been in Vancouver for 3 months. I have been studying here at EC Vancouver. I finished all my lessons and I am now doing an internship here.
My first C class was 'English for work'. One day, the teacher David, showed us the Student Ambassador application form from EC San Francisco and gave us home work to write down as if it was for EC Vancouver. Actually I thought it was just homework to practice writing skills. I completed and submitted it. A few days later he told me there is an interview as the second step. I realized the assignment I did was an actual application for Student Ambassador at EC Vancouver. However, I was glad I thought it would be great experience for me. I finished my interview successfully and started the Student Ambassador job.
What was the most important was welcoming new people on Mondays. I went to the orientation with the other Ambassadors and introduced myself in front of new students. I could meet so many friends from all around the world every week, and practice speaking English in front of many people. I was so nervous at the first time but quickly got used to it. When I finished this work I was not shy to speak English anymore. Also I could meet advisers in school personally. While talking to them, it was very helpful not only for improving my English but also for enjoying my life in Vancouver, since they know well about Vancouver, so they used to advise me about what I should do and where I should go.
I have been really enjoy the student ambassador. I appreciate David and EC Vancouver that let me get this great opportunity. It made my daily life in Vancouver more specially.
Minha Kim
Comments
comments