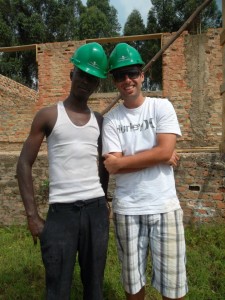 This time next week I will be touching down in Uganda, East-Africa. Over the last 5 months I've learned how to do first day orientation, what Elvis is, how to answer random questions about Vancouver, and in general, how to be a part of the EC Vancouver team. However, though I am sad to go, I am also excited what the next adventure has in store for me, and luckily, I will get to come back to EC when I'm finished!
Throughout this summer I will be volunteering overseas in Uganda, East-Africa. A few years ago myself and a friend started a charity devoted to helping trades schools that teach underprivileged teenagers in Uganda. This summer I will be based in Mbarara and Kampala Uganda, supervising and monitoring a project that will provide needed infrastructure, classroom resources, and overall support to the Kent Foundation Training Institute. Kent has been operating since 1998; it was started by a retired teacher and bishop who wanted to help give youth the skills needed to find employment or become entrepreneurs. Like EC, Kent is working to give youth the skills they need to be successful, they even teach Business English, or as we would call it, English for work.
I am really looking forward to going back to Africa. Every time I go I learn more than I could ever imagine, so not only will I be giving back but I will also absorb a lot, or at least I hope to. My only regret is missing the Vancouver summer, but the hot Ugandan sun will surely make up for it.
Comments
comments