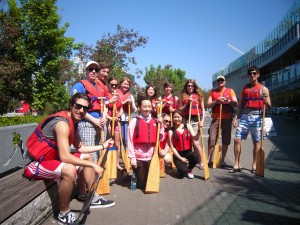 Personal Floating Device (PFD) – We received PFD to start Dragon boating with paddles, and we got instruction.
When did you go?
We went for a Dragon boat trip on the 9th of May.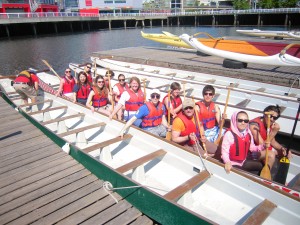 We decided own partners and choose row seat numbers.
Who did you go with?
We went there with our Cambridge FCE class including the teacher.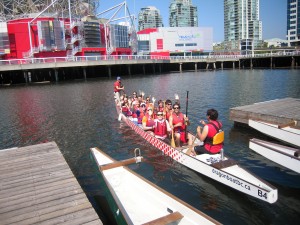 We were about to start paddling.
What did you do there?
We took there Dragon boat lessons and ended up doing a Dragon boat race.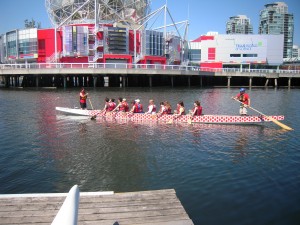 We practiced how to paddling.
What was your favourite thing about the day?
Dragon boat paddling changed our teamwork spirit. Before we went there we liked each other, but after the exciting afternoon we loved each other. We have learned we just can succeed, if we act as one team. Our task to improve our teamwork was banging the paddle in a rhythm on the boat. At the beginning it was hard to act in unison, however after a while we were experts.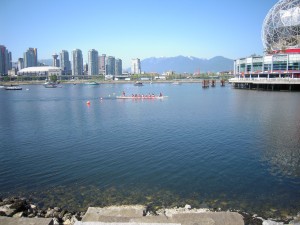 We went far away till under the bridge. It was funny to see walkers looking at us.
Are you going to go again? / Would you recommend this activity to students?
+ Team building
+ Good change for D class
+ Good instructors
If we had stayed for a longer time in Vancouver we would probably do it again. It was a really interesting afternoon for us. We would highly recommend this experience to others who for example need a change from D classes. The instructors were friendly and motivating. We had the chance to greatly improve our teamwork which is, in fact, one of the most important parts of Dragon boating.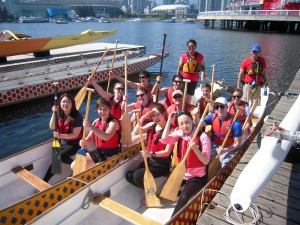 After practicing, we separated in two groups and we had a competition.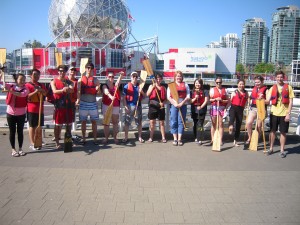 We came back, wet and exhausted, but really happy about this experiencw.
A big thank you to Jacki's class for providing us with photos and giving us information about their trip!!
Comments
comments