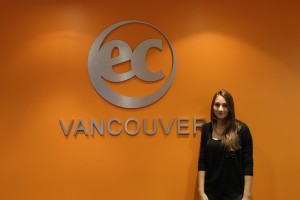 Hi everyone,
My name is Chiara. I am going to be interning for 12 weeks at the EC Vancouver front desk.
I live in a small town called Ilanz, Switzerland. I graduated from high school in July and decided to take a gap year and come to  this Vancouver English School. After this year I will go back to study at university.
I took general English lessons during my first 12 weeks in Vancouver. In this time I met a lot of great people and got to know new things about Canadian and other cultures.
I've visited many places here in Vancouver but my favourite place is Kitsilano Beach. You can have a beautiful day there, just lying in the sand, enjoying time with your friends and watching the sunset in the evening.
Feel free to come to the front desk and ask any questions or to say hello.
Comments
comments