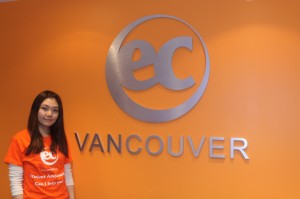 What is your name?
– My name is Ayumi Nakamura.
Tell us something about you.
– I'm talkative though my English is still incorrect sometimes! I really want to improve my English, especially listening and speaking.
Why you choose to be a Student ambassador?
– To improve my English. Also, I like meeting and talking with many people.
What is your job as student ambassador?
– Helping EC Vancouver students who need help with something they don't know.
In your opinion, what is the best activity at EC Vancouver? Why?
– Personally, give opportunities to students for improving their English. For example, making a presentation, like Mimi suggested.
=====
Find out more about EC's English Courses, including TOEIC in Vancouver.
Comments
comments