Ingrid Louise Paiva Rocha, who is currently sitting for the TOEFL Higher Score Canada course, has become EC Vancouver's Student Ambassador!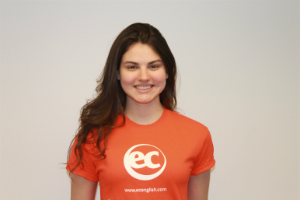 1) Tell us something about you …
I'm 18 years old and I am from Brazil. I'm easy going, friendly, fun to be around, confident. I am also very understanding, helpful and patient.
2) Why you choose to be a Student Ambassador …
I was interested ever since I saw my friends doing it. In my country, I used to be the leader of my dentistry class. I like to represent other students and I usually do my best to reach my goals in life.
3) What is your job as a Student Ambassador ?
On Mondays, I have to go to EC Vancouver a little earlier in order to introduce myself to the new students and let them know I am the person to talk to if they have doubts. On Fridays, I take part in the graduation ceremony and say goodbye to those who are leaving EC.
On both Mondays and Wednesdays, I have meetings to discuss what is to be organized for the students.
4) In your opinion, what is the best part of being a Student Ambassador at EC Vancouver ? Why ?
In my opinion, the best part is to feel useful around the students. It is truly amazing to support them and show them that after all, I am a student, just like them. We are in the same position; that means I can understand their feelings. I also like to make more friends and to be a leader, somehow. I want people to be proud of me. I am doing my best to help every single student.
=====
Find out more about Canada English Language School in Vancouver.

Comments
comments