Jorge Dourado Neto from Brazil shares his experience while attending CAE Cambridge course in Vancouver.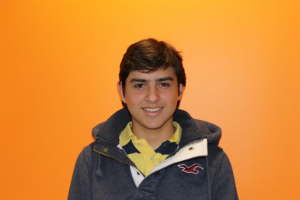 My name is Jorge, I am from Brazil. I am 18 years old. I came to Vancouver, as my father who likes skiing came with his wife to go to whistler 3 years ago and he wanted me to visit. When he went back from his trip, he was impressed by how friendly and polite the Canadians are! He also told me that his dream was for me to come to Vancouver to study English. His exact words were: "since today everybody has to speak English, because it is the most spoken language in the world." this is why, I am here in EC to study English.
Vancouver is one of the best cities that I have ever been to! If you compare it to any other city in Canada, it is the warmest city, where you can go to the beach in the summer, and you can also go skiing in the winter. I must also mention that the public transportation in Vancouver is fantastic. Everything works on time, and you can get updates on real time traffic by test message straight to your mobile phone if you need to know bus (buses) times. My life in Vancouver is incomparable. My home stay is amazing, they are like my second family, and the most interesting thing is that they treat me like a real son! I really enjoy it! They took me for swim in the ocean and also for cycling in Stanley Park, for this reason, I have done a lot of activities with them!
In addition, another fantastic point for living in Vancouver is that you can find people from all of the world. If you are under 19, don't worry about making friends! You have the same opportunities to make friends as everyone else has, in the school or even in the street. You just need to try to speak English. It is incredible how these friends become important to you. After a few months, they become like a member of your family and part of your life. I am certain that you are never going to forget them!
In terms of the school, EC Vancouver. In my opinion, it is the best school ever! They have the best teachers like Jacki, Jim and Nickola for example, they are always trying to be funny to catch your attention, most of them make you keep learning more and more. The directors, I don't even have words to describe them, Taona, Jason, Aaron and Ingmar are sensational. They are considerate, they are extremely patient and try to give their best to help you and to keep you happy in the school!
In conclusion, as I was a student ambassador at EC, I strongly recommend that you come to Vancouver and study here. This experience will be extremely memorable for you, I am certain!
I don not even have any words to thank youuu!!!
Jorge Dourado
=====
Would you like to improve your English like Jorge? Check out EC's Cambridge ESOL courses in Vancouver!
Comments
comments