Just a short drive from Vancouver, 1 hour and 10 minutes to be exact, you will reach the outdoor enthusiast's paradise, Squamish. It is here that you will find the beautiful Elfin Lakes trail, a hike that takes around 3 hours to walk up before you are greeted with the most beautiful lake (where you can swim!) surrounded by monstrous mountains and very few people.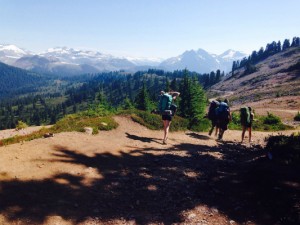 The hike is an easy ascent with amazing views of Howe Sound Valley. At the top, you can set up your tent, grab a bite to eat and continue your adventure up the Opal Cone, the Gargoyles, or Mamquam Lake. These 3 trails are a little steeper than the first walk up, but totally worth it for the views at the top and the appetite you have when you come down.
For dinner, there is a small indoor cabin to escape the flies. You can cook your dinner on a propane stove inside. Make sure you wash your dishes in the sink provided so as not to attract bears! After dinner, you can relax or go for a swim in the lake and admire the views.
The hike down the next morning is not too difficult and still very beautiful. You can be excited about popping into Howe Sound Brewery for a drink and some lunch before your drive back to the city.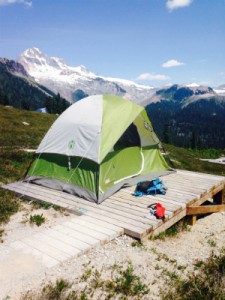 This hike can be done as a day or an overnight trip, in all seasons. Make the most of your EC Experience and live a true Canadian weekend with this lovely adventure to Elfin Lakes! It is the perfect way to explore and learn English in Vancouver!
Tips for the trip: Pack light with your food as you have to carry it up the mountain. Bring a water filter system (or ask someone nicely to borrow theirs!) as you will need it for cooking and drinking. You can use the water from one of the lakes. Finally, bug spray will be your best friend!
Comments
comments