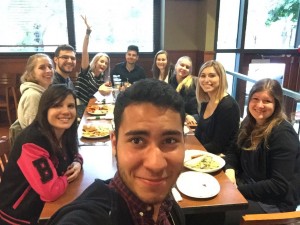 Isabel is a Swiss student who graduated from EC this year. Here is her story:
Friends made at EC
I met a lot of new people at the EC Vancouver. It was very interesting to get to know people from other countries and to see how they live there. I think it was easy for all of us to connect with other students because everybody was here alone and then you're not so shy to talk to other people. All of the people I met were friendly and we had always fun!
We did many things together. We went on trips to Whistler, Victoria and Tofino. Or we did activities like shopping and hiking. There was always something to do and to discover. At the end of my stay I had friends from all over the world. I shared many moments with them and I'll never forget because they made my stay uniquely.
Advice for Swiss students
Just enjoy your time here, Vancouver is one of the most beautiful cities around the world and you'll never regret or forget your stay here.
======
Do you want to learn English in Canada? EC offers English courses in Vancouver!
Comments
comments