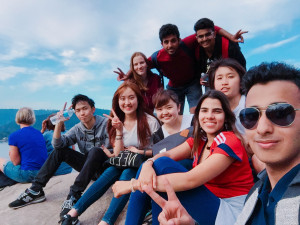 Veronica is a Colombian student who graduated from EC this year.
Friends Made in Canada
There are no words to describe what these four months have meant to me. When someone asks me how it was, I don't hesitate to answer that it was one of the most important experiences in my life. It was not just an academic achievement, it also allowed me to get to know many people from different countries and find out much about the world by my own experience. At first, I arrived laden with stereotypes, knowing little about other cultures and foreign people. However, after a while, when I got to know people from Japan, Korea, Switzerland, Saudi Arabia, Brazil, Mexico, etc., and I asked them about their culture, I changed my mind and I realized that the world was much wider that I had believed it to be, and there were a lot of things to keep discovering. At first, I was afraid of not knowing anyone, staying in a city which I didn't know. But then I started feeling more comfortable and glad to stay in Vancouver, and at the end I didn't want to go back home. Everyone was so kind and friendly. We arranged some trips and meetings in restaurants and many places in the city. They started to teach me other perspective of life, other customs, sorts of food, other ways to behave. This allowed me to learn that my truth was not the only one truth, and every country has their own beauty and charm, and now I want to explore more. I made friends for a lifetime, because every single person left me a big personal lesson. Each meeting, either at EC, or outside of school, was an opportunity to talk, laugh, eat, wonder, and know about each other. I hope that someday we can meet again and remember all of our memories. I'm really thankful to everyone who was part of this time.
Advice for Colombian students going to EC Vancouver
At first you could feel afraid, and maybe you want to stay closer to people from your own country or who speak the same language, but try to avoid the things that you usually do in your hometown. Be aware of other possibilities that could give you many more lessons, for either your English or for your life experience. An experience like this could be the only one, so you should enjoy it to the fullest. EC has a lot of plans in its schedule and there is no excuse to not have fun. Don't regret it later.
======
Comments
comments