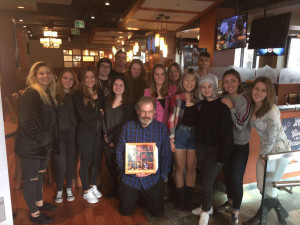 Sydney is a Swiss student who graduated from EC this year. Here is her story:
Studying at EC
Coming to Vancouver has been the highlight of my year and something I'll remember all my life. I couldn't be happier about choosing EC Vancouver because it is a great school with a great learning system and great staff. I did the CAE course for three months, which is 30 lessons a week. One thing I greatly appreciated was the Vancouver-Tour we did before the course started. It was a great opportunity to meet everyone before the course started; we were able to make friends already. My class was mostly Swiss people, which didn't bother me too much since we had to speak English in the school building anyways. I had great teachers – Nina and Jim were very patient and understanding. They are great teachers because they simplify things and make them easy to understand. The lessons were never boring because of the different topics we had every week. We played a lot of games in class and did little competitions, as well as partner- or teamwork exercises and field trips. The staff at EC Vancouver is really nice – they're all very kind and always willing to help you. Overall I'd recommend EC to everyone because it's an amazing school. I'll definitely remember my time there because I was able to learn new things, open up more and meet new people. Some of the people I've met became my best friends and I strongly believe the friendships I've formed there will last a lifetime.
Advice for Swiss students
My advice for Swiss people who want to study in Vancouver is to open up and be as communicative as possible. Don't be shy about your English and hang out with people from other countries. There will be many students from Switzerland but speak as much English as possible. Also be prepared to thank the bus driver when you get off the bus.
======
Comments
comments