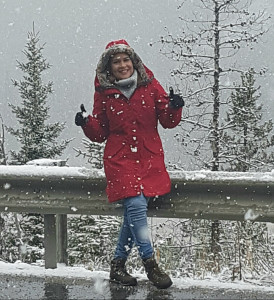 Patrcia is a Brazilian student here at EC Vancouver, who volunteered to share with us about her experience. Here is her story:
Life in Vancouver
At first, I decided come to Vancouver because I needed to improve my English for my job. When I arrived here, in September 2016, I couldn´t imagine how my experience would be. I hardly spoke English, and I was afraid because I thought it would be impossible to communicate me with others people and to be able to do anything.
I met many people from different countries. Although the most of people I knew didn´t speak English, just like me, we could talk about all kinds of things, like our countries, our culture, what we like to do in our free time, our jobs, touristic places, and language.
In Vancouver, there are many options for leisure. Every week I found some different sightseeing places like Stanley Park, where I could ride a bicycle around the park, Lynn Canyon and the suspension bridge, where I got lost with my friend in the end of the trail (I thought I would freeze to death there), English Bay (the best sunset), Granville Island (the best market), Canada Place (the best ocean view), Rogers Arena, the Public Library, Queen Elizabeth Theatre (where I´ve watched the Nutcracker Ballet), the casino (I lost money but I was happy), and many pubs, like the Cambie, Tap Barrel, Belmonte, Cabana, and Library Square. hope that I can go to other places before I go back to Brazil next February.
My favourite place while I was In Vancouver it was the Rocky Mountains. When I went there, in October 2016, I saw snow for my first time. It was amazing because in my country (Brazil) we don´t have snow. I was like child, enjoying that experience. There, I saw the Lake Louise, the most amazing lake I´ve seen in all my life. It is very big and it has emerald water, beautiful nature, and many mountains around the lake. It made me feel at peace. I was impressed how it is possible for a place like that to exist. That place proves the existence of god. I felt blessed to be there.
On Christmas, I´ve lived a Canadian experience with my host parents. They are Canadians, and on Christmas eve, we went to my friend´s parents' house and had a dinner there. I realized that here, in Vancouver, the Christmas celebration is just on Christmas day. We had a big breakfast, and after that, we open the presents. Then, we stayed together until the evening, when we had a Christmas dinner. It is different from my country, because in my country we have dinner on Christmas eve at midnight. Then, right after we had dinner, we open the presents. The day after, Christmas Day, we just relax and stay together.
Now, when I look back, I am much happier and satisfied with myself, because at the same time, I could improve my English and live that amazing experience that I will take with me for the rest of my life. I am sure that when I was here, I didn´t just learn to speak English, I also changed my mind and I learned how it is possible to have a simple life and be happy with little things.
I thank God and my family for allowing me stay here during five months, and I sincerely hope to be a better person when I go back to my country.
Advice for other students
I think that it is possible to do many things in Vancouver without spending too much money.
There are places like Lynn Canyon, Granville Island, Stanley Park, Canada Place, Queen Elizabeth Park, English Bay, and Ice Skating, where you can go and you don't need to pay.
In the other hand, you have to go to the Rocky Mountains, Whistler, Victoria, Seattle, Grouse Mountain, and Cypress, and see how beautiful and interesting those places are.
======
Comments
comments