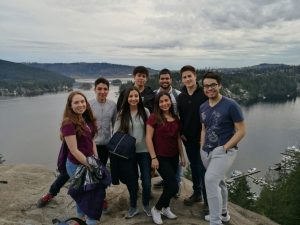 My name is Natalia Sofia Joya Mendoza, I am 18 years old and have been in Vancouver for over six months now.
I'm more than in love with this city, my experiences have been nothing but excellent. I came to EC because it seemed like a community rather than just another English school, to my surprise, it was even better than I expected, everybody is friendly, kind and willing to help you out. Vancouver is known to be a diverse city, the name suits it, you can meet so many people from all over the world, nationalities you never though you'd meet, but that you share so many common interests with. Making friends was not an issue and I will definitely miss all the amazing friends I made, at least I am aware that anywhere I go, I'll have a friendly face to visit.
Nowadays English is such an important language in a worldwide spectrum, there is no better way to master it than throwing yourself into the void and pushing your own limits, you'd be surprised of how far you can go when you truly wish to achieve your goals.
After graduating from EC Vancouver, I'll stay in the city and go to college, my English level and hard work have granted me a spot in a prestigious institution.
—–
Planning to come to Canada to improve your English skills? Find out more about English Courses in Vancouver!
Comments
comments