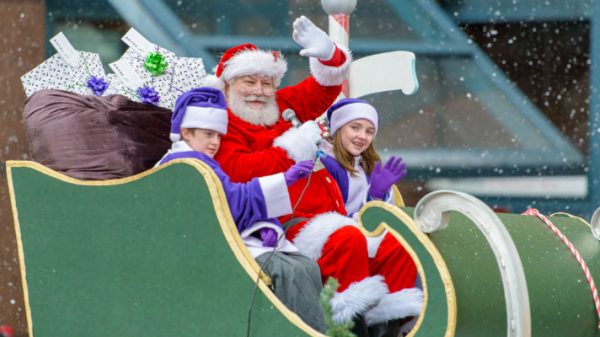 Christmas is around the corner and Santa is coming to downtown Vancouver on Sunday, December 2, 2018. Whether you've been naughty or nice this year, be sure to get some quality time in with Santa at the 15th annual Vancouver Santa Claus Parade! The event is an annual tradition that attracts over 300,000 people in good years.
Route:
The parade starts downtown Vancouver at 12pm at Georgia and Broughton streets, and travels east on Georgia to Howe. It will then turn south on Howe and finish at Howe and Davie streets. All the events are in walking distance from the Burrard, City Centre, Granville and Waterfront SkyTrain stations.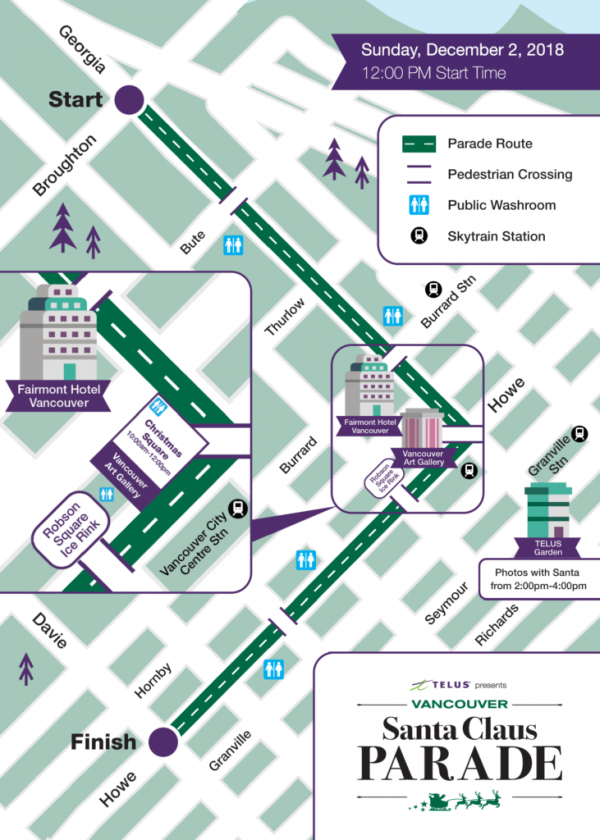 Place to watch:
With a long parade route, there will be great viewing along the entire route. The corner of Georgia and Howe does get very congested, so we do recommend going towards the start or end of the route for the best spot! There will be an accessible viewing area set up in on the East side of Howe Street, just south of Georgia Street.
Other activities:
Breakfast with Santa at the Fairmont Hotel Vancouver (9:00am -10:30am) – Have a delicious breakfast buffet and exclusive meet & greet with Santa before the parade starts! Filled with wonder and excitement, you will have an opportunity to sit with Santa and confide your Christmas wish list before he presides over the festive parade at noon. The buffet will include a chef attended pancake station. The breakfast takes place at Fairmont Hotel Vancouver (900 West Georgia Street) and will cost $35 per adult, $15 per child Full pre-payment at time of booking, inclusive of taxes & gratuity. Make your reservation calling 604-647-0517.
Christmas Square (10:00AM – 12:00PM) – Parade spectators are encouraged to arrive early for pre-parade fun. The free festivities begin at 10:00 a.m. with two hours of family entertainment at the Christmas Square the North side of the Vancouver Art Gallery. The Christmas Square includes a Food Bank drop off, face painting, Letters to Santa station, and an entertainment stage featuring Live music by LeftCoast.
TELUS Photos with Santa at TELUS Garden (2:00pm -4:00pm) – Take photos with Santa after the parade at TELUS Garden (510 W Georgia St).
Keep yourself warm!
Organizers advise dressing in warm and cozy layers, and bring rain gear just in case. Though they would prefer you brought rain jackets with hoods instead of umbrellas, which block views of the parade. Bring chairs to watch the parade, but please don't move or occupy someone else's chair.
Sources: Vancouver Sun, Tourism Vancouver, Vancouver's Best Places.
====
Do you want to improve your English in Canada? Check out our Vancouver English Centre.
Comments
comments