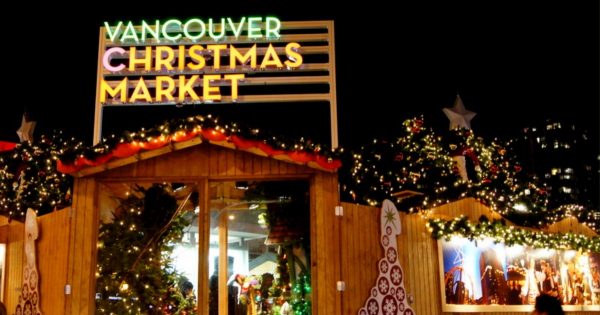 The best way to practise what you've learned at your English courses in Vancouver is by chatting with your friends while having some German beer, festive cocktails and Glühwein (which is hot-spiced mulled wine) at the Vancouver Christmas Market.
You can visit the Vancouver Christmas Market, which is set up around the Olympic Cauldron, daily from November 21 to December 24, 2018, between 11:30 am and 9:30 pm. Christmas Markets are originally from Germany and here in Vancouver you can discover more than 80 huts offering traditional German specialities.
There is a lot to experience at the Vancouver Christmas Market. Sing along to your favorite Christmas songs performed on the Flying Stage of the Christmas Pyramid in the middle of the market. Next to nice drinks and special food, sweet or savoury, you'll find endless options for gift shopping: Olive oils, balsamic vinegars, handmade soap, classic Christmas decorations, organic and fair trade chocolates, glass/ ceramics/ porcelain designs, coffee, handcrafted jewellery, honey, pickles, mustard, spices, nuts, mushrooms, pancakes, Christmas sweaters and more.
At the Vancouver Christmas Market you can walk inside of a huge Christmas tree decorated with thousands of lights. Together with your best friend or your sweetheart you can buy a heart-shaped lock and install it at the new Love-Lock Installation.
You can also combine your visit at the Vancouver Christmas Market with a visit at FlyOver Canada to make your day a perfect winter day. No matter how you spend your day there, it will get you into the Christmas spirit and leave you with unforgettable memories.
Comments
comments