Hello! So my last post was about Columbus Day. Now, I'm writing again with another fantastic thing for students to do in Boston this fall. We hope this make you excited to Study English in Boston!
Halloween
Another exciting event in Boston is Halloween. Halloween is one of the largest celebrations in the United States. One of our Teachers, Michael, is from the United Kingdom. He says that in the UK, most people don't really celebrate it. But in the US, everybody loves Halloween! To tell the truth, the Halloween day, October 31st, is not a national holiday. However, almost of all American do the Halloween party after their job or school.
They enjoy dressing up in costumes and decorating pumpkins. While Halloween itself is on October 31st, Americans usually starts to get excited about it from the end of August. Starbucks, for example, start to sell their pumpkin spice lattes. One of the largest events in Halloween Boston is Halloween on the Harbor. Every year our students (or at least the ones who are 21 or older!) have so much fun at this event. Everybody dresses up in a crazy costume, and then you get in the Boston Duck Shuttle and this takes you to many different parties at different venues on Boston's waterfront. It costs $20, but the proceeds go to a local charity, which means you're having fun and it's also for a good cause!
Moreover, in Massachusetts, there is a city which is famous for Halloween. The name of this city is Salem. Salem is known as "Witch Capital". If you stay in Boston during Halloween, we definitely recommend you go to Salem. Salem is famous for the Salem Witch Trials in the 17th century where many people were accused of witchery, and some of them were hanged! Since that time, Salem has had a reputation for everything to do with witchcraft and the occult, so visiting there during Halloween is very popular.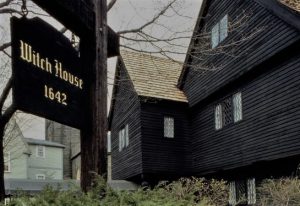 Comments
comments