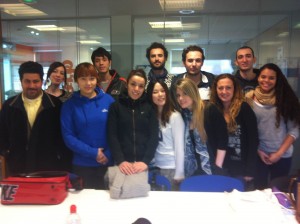 Pre-Intermediate 3 have written about what it's like to live and study in Brighton. Read on to learn about all their different experiences…
"I arrived in Brighton five months ago. I have come here to learn English in a language school. It is not very big but the students and teachers are kind, so I have already made a lot of friends here. At the moment I'm living with a friendly family who have two daughters who are married and sometimes come home to visit their parents. Here I feel at home.
This city has got a beautiful beach but the weather is not very nice yet. In my opinion the food is really different from Spain. English people eat lot of vegetables and they drink different types of tea all the time. However this is interesting because I'm learning about a different culture which is fun at the same time.
I have already visited other cities in the UK such as Newcastle and Edinburgh. Perhaps in my next blog post I will write about this…"
-Jose Carlos Corodoba Zurera
"The Pier, Seagulls and Cold Winds:
Where should I start? I don't know. I came to Brighton three months ago. It was a rainy day, I will never forget it. I was starting an adventure. Now I'm in the middle of it and time is passing very fast. The day after I came here, I walked around the city for a long time. I tried to find some interesting places here. I wanted to learn about good pubs, museums, music shops and restaurants. Also I wanted to observe the Brightonian people. I found lots of interesting places. Now I can say "Brighton has got soul". This makes it different from other cities.
There are lots of pubs here and it's wonderful for me because I like drinking. The Lion and Lobster, The White Rabbit and the Blind Busker are a few of my favorites. If you want to listen to live music and if you love tribute bands like me, Concorde 2 is very good place for you. I think the Royal Pavillion and Brighton Pier are symbols of Brighton. When you walk on the coast, you can see Brighton pier with too many seagulls. If you come here in winter, you have to dress carefully. Because It`s very windy and cold. It's not like Istanbul. Also If I compare Brighton to Istanbul, Istanbul is more polluted and crowded but it's also more historical and hotter. Finally Brighton is a very beautiful city for living and sightseeing. You can take lots of pictures here, you can taste different beers and whiskeys in the pubs. When I go back to my country, I'll miss Brighton."
-M.Batuhan Cankir
"I've arrived in Brighton. It is nice and homely and there are people from diverse cultures. I've been here for three weeks and I've made a lot of friends. Most of them are younger than me. I envy them.
Nowadays, my skin is terrible, drier and drier because the water is different from Korea.
Also I have eaten some bread every day. I bought something, I don't want my skin to be terrible anymore. I am happy, I feel better.
I have dinner with my friends… Japanese, Italian, Libyan, Korean (me). We have different cultures from each other. Learning about other cultures is fun!!! I hope to learn English and about other cultures while staying in the UK."
-Areum Han
"I've just arrived in Brighton. It's nice, beautiful and the people here are friendly. I've been here for two weeks. I've already seen many beautiful and interesting places here such as The Marina, The Pier, Churchill Square and The Odeon Cinema. I've been to Hove to look for a private flat because it's quieter than Brighton and the rent is lower. I go to the gym at the Hilton hotel every day. I've just paid for my monthly membership. I haven't travelled to Belgium yet, but I hope to go there."
-Khalid Al-Hammash
"Brighton is small, fun and the people are so friendly. I've been here for four months. I've made lots of new friends. Most of them are students. But I've met other people who live and work here or in London.
I'm staying with a host family. They are so friendly and helpful to me. They live in Peacehaven. It is too far for me. It takes thirty minutes to get to school five days a week. But I am used to the shuttle bus now.
My host mother's a very good cook. Our food is delicious. I am going to learn different meals from her. I am going to miss both of them and their food."
-Selen Acar
"I've been in Brighton since 12th of November because I wanted to study English in the UK. In Brighton, there are a lot of cafés. I love to go to cafés with my friends. We have visited a lot of them and I've just been to one now. There are also a lot of pubs, but I don't like to drink. Actually, I can't drink a lot, however I like chatting in pubs with my friends. So I sometimes go to pubs.
Recently, a few Japanese people went back to Japan. And my Korean friend is going back to her country in one month. So I feel lonely. I don't know whether I can make new friends. But now I'm enjoying myself!!"
-Yurina Matsumoto
"It's a pleasure to share my life here with you. I go to EC Brighton every day and I find it complicated to communicate with non-native English speakers. Sometimes I can't even understand the words which are quite clear when they are spoken by them. So I think I haven't got used to it as they don't speak to me clearly.
I sometimes have lunch with my friends when I finish lessons. I do love Indian food and Arabian food. Indian food is especially spicy, but Chinese food is much spicier. I've been to the Sea Life Centre which is near to Brighton Pier and I really enjoyed myself.
Although I'm happy here, I've been dying to go back to China as I'm missing my country. Anyway, I'm gonna try my best to do well during the course of studying here."
-Alex Huang
"I have just arrived in Brighton. It is a nice, beautiful, student city and the people are so friendly. I have only been here for a few months and I have made some new friends already. It is very cool because they are from other countries and have come here to learn English like me. Most of them are students too, and they are new to Brighton. I like shopping, restaurants, beaches and parties. Brighton is very cool for that because there are a lot of young people, tourists and parties to meet other people. I think it is a good experience for me because I like England and I will visit London. This is a new country with new people."
-Khadija El Khalki
"I'm living in Brighton (England). This is a small town but everyone is happy. I am studying at EC school, where people are very friendly. I've had the opportunity to meet people from all over the world, now I have new friends and I love to learn about other cultures.
I'm now living with an English family, they are very friendly. Brighton's weather is not good, it's always very cold and the wind is freezing. However I like the atmosphere of the city.
The experience of living in another country, learning another language and meeting lots of people has been very good for me. Some weekends I have travelled to Europe and this continent is really lovely, I've been to some wonderful places. Although I miss my family and my country, I have really enjoyed my time here."
-Tania Martinez Nunez
Comments
comments