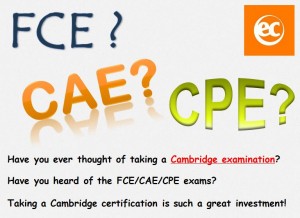 Every year more than 2 million people take these examinations in order to improve their employment prospects, to seek further education, to prepare themselves for travel or living abroad, or because they want an internationally recognised certificate. Cambridge examinations can be taken by anyone whose first language is not English all around the world.
Why do you want to take a Cambridge exam?
If you want to study in English at foundation or university level, if you want to work in an English-speaking environment or live in an English-speaking country
What holding a Cambridge certificate means?
Once you have your Cambridge English certificate, you hold one of the most valuable English qualifications in the world. It's an achievement you can be really proud of.
Are Cambridge certificates recognised in my country?
Yes, they are. Most of the Cambridge certificate are accepted by well-known worldwide companies like American Express, Siemens, Fiat or Sony, or universities and colleges like King's College London, Manchester Business School or University of Brighton (take a look if you want to see other companies which accept Cambridge certifications: http://www.cambridgeenglish.org/recognition/results.aspx?country=United%20Kingdom&type=All&exam=CAE,FCE)
How EC Brighton can help you get a Cambridge certificate?
EC, one of the most successful English language schools in Brighton, can help you pass the examination. We have FCE, CAE and CPE courses. Our teachers are very experienced who will show you the different techniques in order for you to pass the exam, going through all the examination papers: reading, writing, listening, use of English and speaking.
If you have decided to take a Cambridge exam, come to EC Brighton and study with us! It's the best choice!
Comments
comments