Brighton wheel is one of the latest additions to Brighton Seafront and it has certainly changed the scenery.
A few interesting facts!
– The wheel was manufactured in Germany and was transported to South Africa in 2010, where it served as a tourist attraction during the 2010 FIFA World Cup
– It was erected in October 2011
– It has planning permission to remain in place until 2016
– There are 35 standard gondolas, each able to carry up to six adults and two children, and one VIP gondola able to carry up to four people
– About 30 jobs have been created by the opening of the Brighton Wheel
– It is 45 metres in diameter
Take a ride and enjoy stunning panoramic views!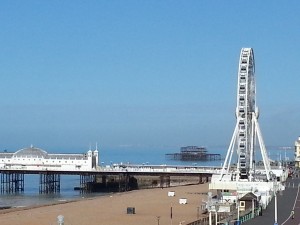 Comments
comments