Brighton is one of the most stunning and bustling cities in England, especially at this time of the year that the weather is great! But… Is there anything else beyond all the history of the city, its beautiful buildings and kind people?
Unexplained goings on, narrow passageways , overwhelming presences…  Is brighton a haunted city?
Just for you to have an idea. If you ever happen to wander around "The Lanes" and pass by "The Friends Meeting Hose", pay attention to the bricked-up doorway as in the picture. A figure of a ghostly nun was seen passing through it!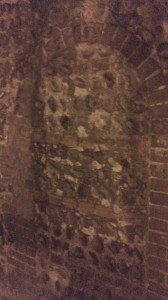 For all of you interested in the unexplained goings on, Bob Marks who actually lives in Brighton and has written the book "The Ghosts of Brighton", can take you on a scary tour around Brighton's most haunted places! Is EC Brighton haunted too??? So scary!!!
Comments
comments