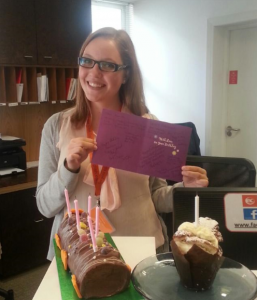 It's very sad but now it's the time to say goodbye after 6 month in Brighton.
On the 04th August 2013 I came to Brighton to do an internship in a school. My first work placement was far away from what I expected. So I changed my work placement to EC Brighton. On the 23rd of September I walked into EC and saw Stephenie at reception. From the first second she was smiling and was very friendly. I really felt welcome at EC. Also when I first met Elisa I knew that this would be 4 great months with both of them at reception. When I was introduced to the others at EC they were all very nice and open hearted. The atmosphere was perfect and also it was fun to work at reception. At the beginning when Eli explained to me what I had to do, I thought I would never do it, but after a week I knew how to run the new arrival list, or write bank and attendance letters for the students. I even answered the phone which I never expected to do. Also, I was one of our five Student Ambassadors, who try to help the new students. We had a lot of fun at the welcome events! As an Student Ambassador I met Heeju from South Korea, Cristiane from Brazil and more students who study long-term English courses in Brighton.
Apart from the school, Brighton is a wonderful city. The landscape is beautiful especially in summer. I love the Seven Sisters and Devils Dike. I joined the Bonfire Night in Lewes which is something I have never seen before. It was really fantastic. With the friends I've met here in Brighton we had lots of barbecues or lunch breaks on the beach. It was great and for me it was also something I've never done before, because I don't live near the sea in Germany. I visited Oxford and for New Year I spent two days in London with lots of shopping and I also saw the fireworks which was very nice.
I really enjoyed my time in the UK and all I can say is thank you for this amazing time at EC with some fantastic colleagues. I will miss you but I will definitely come back for a few days to say hello!
Comments
comments