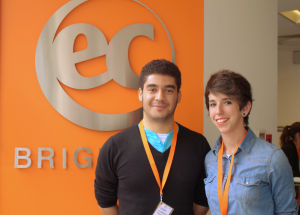 I am Elena and I am the new intern from Spain. I had already finished my studies as an International Management Assistant in a Business School of Navarra. I am so proud of getting my internship at an English school in Brighton, especially at EC, because I think that it is going to be a big opportunity to know what a real work is. I have done an internship in Spain before, but I am here to improve my English skills as much as I can. I was scared at first but then I realize that it is a risk that needs to be taken. I ever wanted to go abroad so it is my chance to know what it feels like.
I am working in the Accommodation department and I am really enjoying it. It has such a friendly environment and it is so great to be here to help them with anything that they want.
I get surprised when I came here because I didn't know how Brighton could be like. It is an amazing city where you can do so many things. The one thing that I like the most is the beach, I usually go there just to sit down with my friends and watch the sea getting relaxed. There is also so many shops that you can go and so many incredible places that you can visit like, for example, the Royal Pavilion or the Brighton Pier.  There are also so many festivals and that is perfect if you like music.
I am going to be here just for three months and I don't want to go home! I hope that I could get the chance to be here again in the summer.
I am Paulo. I am the new intern of EC from Spain. I am studying Marketing and Finance at Foro Europeo Business School of Navarra. I finish this year my degree.
I love sports. I have been playing football in Spain, and I'll play football every Thursdays with the EC students and staff. I like to go to the gym too. In my free time I go out with my friend. I would like to visit Brighton, go sightseeing, meet a lot of people, go to the cinema and travel around England.
I think that doing internship in Brighton is a good opportunity to improve my English, know how English people work and live in a different country. Last year I have done internship in Spain in Navarra Government.When I arrived here, I was nervous because last year a partner of my university told me that working in EC is very interesting. She told me that she has done a lot of different activities with teachers, EC staff and students. She told me that I would enjoy a lot. I hope I can do a lot of activities in EC.
Brighton is a beautiful city where you can do a lot of stuff. It has got a lot of restaurants, pubs, students of different countries, shops… If the weather is good you can go to the beach with your friends. Every day there are a lot of things that you can do.
I've come here  for three months and I would like to come back to Brighton after the summer!
Comments
comments