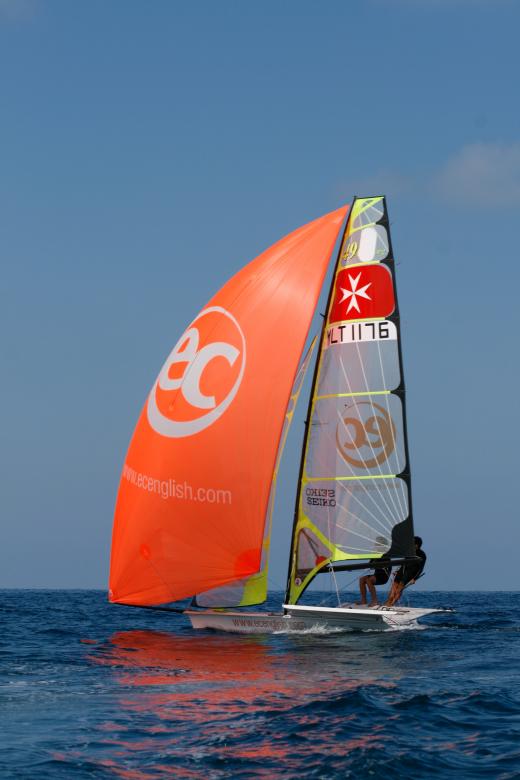 Sailing since the age of seven, Seb and Ben have a growing international reputation and a determination that they hope will take them all the way to the London 2012 Olympic Games. The pair are aiming to represent Malta in the High Performance Dinghy (49er) category in London. And as proud main-sponsors of teamSeb&Ben, EC will be supporting their massive ambition, every step of the way.
For the landlubbers out there, here's a quick overview of the sport. Seb and Ben race in a 49er dinghy, so-called because of its length – 4.87 meters (16 feet). Because of its flat narrow hull and disproportionately large spiniker, it is notoriously difficult to sail. The 49er made its first Olympic appearance at the Sydney Olympics in 2000 and has continued to grow in popularity ever since.
In order to make it to the Olympics the EC-backed duo have to place within the top 21 countries at the Olympic Qualifiers in December 2011. That means the young team need to get all the competitive experience they can between now and then. Their next big showing is at the prestigious European Championships being held at Gdynia in Poland (05-10 July). This is undoubtedly the biggest test for the young Maltese sailors in their 2012 campaign which has taken them to five European racing arenas in four months.
Working towards the 2012 Olympics the boys have come up with a thorough three-year plan: This year sees them competing all over Europe in the ISAF (International Sailing Federation) World Cup. 2011 has them competing in the ISAF World Cup (Australia, USA, Europe) and qualifying for the Olympics at the ISAF World Championships in Perth. All this hard work will hopefully culminate in 2012 Olympic glory.
And no matter where the boys are in the world, they'll be flying the EC flag…well, an EC sail at least! The duo's brand-new boat features the EC logo on the sail and hull. Naturally, it gives us great pride to be able to help these young, Maltese men pursue their dreams.
The London 2012 Olympic Games take place in Great Britain from 28 July-11 August. The 10 events of the Olympic Sailing Competition will be hosted at the Weymouth and Portland National Sailing Academy (WPNSA).
For the small nation of Malta, having representatives at the Olympics is a very big-deal. Going for gold against the bigger countries will take a David and Goliath-like effort. Stick with us to see if this story has a fairy-tale ending. We'll keep you updated on the boys' progress.  Also find out more about Malta Yacht Charters
Comments
comments