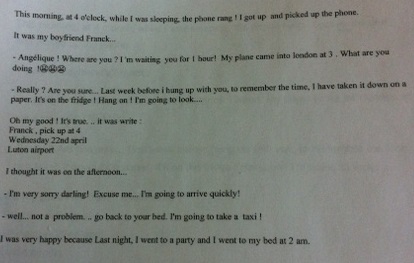 If you're thinking about taking an English language course in London, you have probably prepared yourself for the possibility of doing homework again, just like the piece of homework above. And for many of us, homework is something that we haven't had to think about for a long time.
Well don't panic!
At EC LONDON 30+, homework is there to help you to improve your English language skills. But if the thought of homework sends shivers down your spine, fear not! The tasks we set for our students keep in mind that whilst studying a language you are also here to experience life in London and British culture. It may be as diverse as doing a questionnaire on British culture, visiting the British Museum or even writing a blog.
One piece of homework I often set my students is to keep a daily diary. One of our students Junko has generously agreed for me to share these extracts straight from her very own journal:
<April 29, Wed> If only I kept a diary everyday, it might be great memory and great English practice.

<April 30, Thur> Today was the afternoon class day. In the morning I went to the national gallery to see the picture of "the virgin of the rock" written by Leonard Da Vinci….. ….This afternoon's general English class was about a story. I think it was good that we all had read the story in advance by homework. However a discussion is still difficult for me but it is very good training. While I'm now writing, I also found that keeping a diary is very good training….
I'd like to say a big thank you to Junko for letting me share this. And yes, writing a diary is good training! It means that each day you can practise writing in English and at the end of your time here not only have you improved your grammar, spelling and general writing skills but, as Junko says, you have your memories and your very own record of your time in London.
And why wait until you come here?! Why not start writing a diary in English before you come?! It will help you to refresh your English before you start your English language course in London.
Check out our website for more details if you're thinking of doing an adult English language course in London.
If you'd like some English exercises to refresh your English before your English language course in London, try our learn English website.
Comments
comments