Traditional Maltese Food
When someone arrives in a different country one of the first questions that they usually have is about its local cuisine. If you have just arrived in Malta, you probably don't know what is included in the Maltese menu, and if you have already tried some local dishes, you may like to know information. So, EC Malta prepared a list of the most popular Maltese food, including desserts. Check out it below!
Due to the history of Malta, where the island was occupied by many different civilizations, the character of the traditional Maltese food presents a mix of influences, including English, Spanish and French. The cuisine has also a strong influence from Sicilian and North African flavours, which gives a delicious variety to the menu.
So, if you are a new student don't miss the opportunity to try some traditional Maltese food today at our EC Malta Welcome Dinner! The meeting point is at 7:45pm in front of school. What's more, you can always find these dishes in Maltese restaurants around the country. Have a great time!
Savoury Dishes:
– 'ħobż biż-żejt' : Specially Maltese bread dipped in olive oil with tomato paste, onions, tuna, olives, and capers in the top.
– Bigilla: Paste of mashed beans with garlic, usually served with Maltese biscuits or bread.
– Kapunata: It is known as a version of the Sicilian dish "Caponata" and French "Ratatouille", which is a vegetable dish with green peppers, eggplants, tomatoes, onions, carpers and black olives. It can be served as side dish or even as a base for a cooked meat.
– 'Widow's Soup': A delicious vegetable soup with a melted Ġbejna cheese inside (sheep or goat's cheese).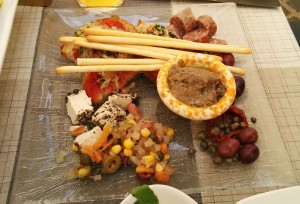 – Maltese Platter: It includes the main specialities of Maltese cuisine: Bigilla, Maltese Sausage, Black olives, Sundried Tomatoes, Goat's Cheese, Maltese bread, and more. It's according to the restaurant.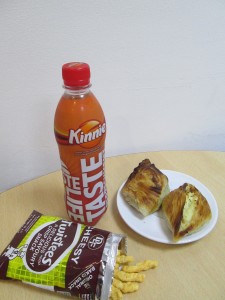 – Traditional snacks: Kinnie, Twistees and Pastizzi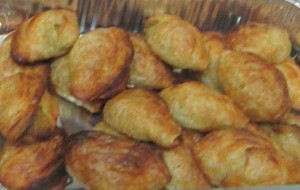 – Pastizzi: Savoury pastry stuffed with ricotta or mushy peas.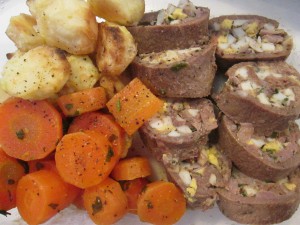 – Braġioli: Strips of beef rolled and stuffed with different ingredients, such as bacon, bread crumbs and parsley bound with an egg. The beef can be stewed in a wine and tomato sauce.
Desserts
– Kannoli: Sweet pastry fried, shaped in tubes filled with sweetened ricotta.
– Mqaret: Sweet pastry fried and stuffed with a date mixture. It can be served with ice cream, which makes a good dessert.
– Cassata: Traditional cake made with almond paste and stuffed with sweetened ricotta.
– Ħelwa tat-Tork: Sweet pastry fried and filled with sweet cream.
===
Find out more about EC's English Courses in Malta.
Comments
comments