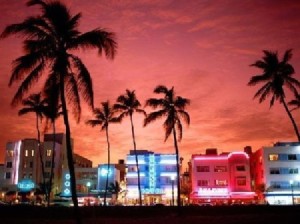 "Miami Beach"
Before this lecture, I knew that Miami is one of the most touristic city in United States. For me five words that I can use to describe Miami are: Amazing city, Magnificent, Blue City, Awesome and Light City.
After this lecture I learned more things about Miami, but the most important is that Miami beach is only a little part of Miami city. The first inhabitants of Miami were the "Tequesta Indians" 5000 years ago. Miami was founded in 1896 by Julia Tuttle, she was called the "mother of Miami" because she was the first woman who founded the city in the United states. Another important point is that in 1915, Miami was founded, in the actually this place is a touristic centre with beautiful beaches and a lot of shopping stores.
Miami has a population of 2.4 Million people, 20% are white, 57.3 are Hispanic, and 18.3% are black. This city has the largest airport of international freight, and was founded in 1928. It is the busiest airport in USA , and is the second largest for the international passengers.
Miami has 3 different teams, Miami Hearts Basketball Team, Miami Dolphins American Football team, and the Miami Marlins Baseball Team.
I liked very much this lecture because I could learnt more about Miami and your history, who lives there , the sport teams, things to do,and the culture of the people who live in there. "
===
Learn English in Malta with EC English Language Centres!
Comments
comments