Studying English does not mean staying at school for half the day and then staying at home for the remaining half. If that's your impression, then you're clearly mistaken. Why do you think we've been using "all work and no play makes Jack a dull boy" as a proverb for yonks now?
What does that mean? Well, there's no denying that the destination you opt for plays a truly important role in the success of your study trip. That's exactly why you ought to make sure that the location you select can offer not only linguistic help, but also a range of activities which could help you activate what you have just learnt in the classroom. Practice makes perfect and a lack of it will only result in a lot of unused language.
Malta has that off-the-beaten-track kind of feel to it. It's charming in a particular way. Whether you're a history buff or a culture vulture, you are sure to find myriads of places to visit, discover and explore. Not to mention the many beaches that beckon sea lovers.
Were that not enough to lure you, then you must also know that the Maltese are reputed to be among the most cordial and hospitable people around the world. One could even say that their reputation precedes them. What does this mean? Well, to cut a long story short, it means that whenever you may have a problem they will be there to offer support. (They're also chatterboxes, so should you want to take advantage of that…)
By extension, that means you will feel really comfortable making contact with them, which in turn means more and more speaking. In fact, 200 years of British rule have ensured that the Maltese become perfect bilinguals. Besides, a quick search on the Internet will show you that English is not yet another language, but actually an official language used by the government and the people alike in whatever they must communicate.
ESL Malta is definitely your next step if you desire to improve your level of English. Book a flight and get here… learn English and have a fabulous time!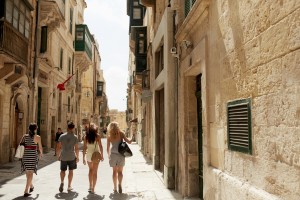 Comments
comments