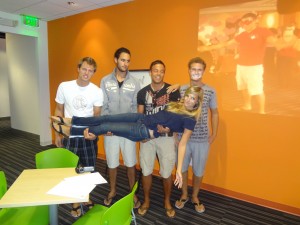 It's the end of an era (well, 2 months actually). This week EC Miami has had to say good-bye to its first round of FCE and CPE students.  They started classes on opening day and now, after months of sleepless nights from studying and essay writing (that's why you guys didn't get enough sleep, right?), our exam students are finally geared up to sit their oral and written exams on Friday and Saturday mornings.  In an effort to wish them the best of luck, we sent them off with a musical slideshow as a warm farewell!   
EC Miami will also see many more of its General English students off tomorrow at graduation.  This will be our largest certificate ceremony yet and we are so sad to see so many people go, but we are excited to see new faces soon. We have valued all of our leaving students' time here, their contributions to the school and most importantly, the strides they have made in English! You should all be very proud of yourselves.
We will miss all of you! Keep in touch with us on Facebook and you are always welcome back to study more at EC Miami or any of our other EC schools around the world!
Comments
comments