Although Miami Beach is sunny and beautiful most of the time, there are rainy days every now and then, which mean that a typical beach-bathing afternoon is not always an option. After hearing some EC Miami students express disappointment about the last few rainy, overcast, or windy days we thought we would give you some rainy day activity ideas. The beach is great, but there are plenty of indoor things to do on South Beach too!
Go to the movies or go bowling: They are both literally across the street from EC Miami. Watching a movie gives you a great opportunity to practice your listening skills because the films don't have any subtitles. Also, you can try some yummy American snacks, like extra-butter popcorn from the concession stand. Bowling is at a place called Lucky Strike on Michigan Avenue. If you go during the day, it is much less crowded and you and a group of friends can rent a bowling lane or play pool or other bar games.
Go to the library or a museum: It's always a good idea to improve your reading skills in English regardless of your level. The closest library is at 227 22nd street and it has books for all reading abilities as well as movie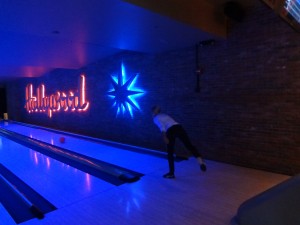 s, dictionaries and more. If you have an address in South Beach, it is easy for you to get a library card and check out materials. Ask at the EC Miami front desk for more information. South Beach also has two fantastic museums – the Wolfsonian and the Bass Museum. They are both art museums and they have special discounts on certain dates. We know some of you are here to party, but you could always squeeze in a little culture too, right?
Study or Skype your family and friends: You did come here to study, right? Rainy days are a great time to study with friends or alone and brush up on your vocabulary. It is also a good opportunity to contact your friends and family via Skype or another communication service and let them know about your time in Miami.
Go to an EC Miami activity: We LOVE to see you at our activities and we will always have at least two indoor activities each week. Come join us at a happy hour or for pronunciation clinic, chill and chat, or a lecture. You can even come to EC and play a board game with friends in the student lounge. Whether it is an education activity or not, it is a good way to keep speaking English outside of class with your EC friends.
So, what do you think you will try next time that it rains? What else would you recommend that people do on South Beach on a rainy day?
Comments
comments