In Miami, we are lucky enough to live in a very international city that is largely influenced by Latin culture. To experience some Latin food and music, some of our students had a Noche Latina with Elisa last night. The group started the night on Espanola Way at Havana 1957 restaurant and tried various different Cuban foods, such as ropa vieja (shredded pork), yuca frita (a fried root vegetable), and mojitos (an amazing, Rum-mint drink).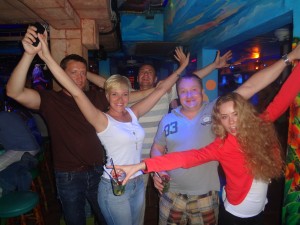 After trying Cuban flavors, the students headed to Mango's Café on Ocean Drive to learn about Cuban music and dancing along with many other tourists to Miami. Although some students were hesitant about the Latin music at first, they eventually started dancing the night away. They may not have known how to salsa, but they were definitely creative with their dance moves.
While our students are here to learn English, it is also important to embrace the Latin culture of Miami and to appreciate the bilingual atmosphere in our city. Noche Latina was a great way to see a side of Miami that was relatively unknown to some students, but a very important part of Miami's heritage.
Comments
comments