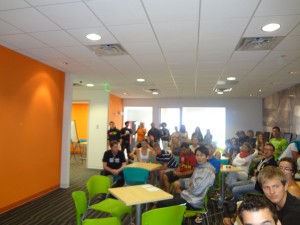 This week Amanda, our lovely center director, has announced a new program at EC Miami called the Student Ambassador Program. This concept, which is already going on at some EC locations in other cities, invites some of our top students to become ambassadors of EC Miami. These students will try to increase school spirit, help with ideas for the blog and Facebook, run the welcome lunch and walk on Mondays and serve as sources of information and advice for new and current students.
Throughout the week, Amanda has been interviewing candidates for this prestigious program and the official ambassadors will most likely be announced next week. To be an ambassador, a student must be in a high-intermediate level or higher and most speak English confidently. Additionally, this person should be very social, should want to promote EC Miami, and must be in Miami for at least one month.
A huge benefit of participating in this program is that you will get to meet all of the new students first and you will also have many opportunities to speak English. After you have finished your time as an ambassador, you will receive a nice recommendation from the EC staff thanking you for all of your hard work.
The EC Miami ambassadors will be chosen soon, so good luck to all of our interviewees and keep your ears out for our official announcement!
Comments
comments