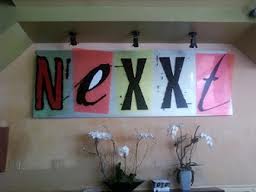 Today was Gogi's birthday as you may have noticed from the videos on our Facebook page. Gogi turned 23 today and was kind enough to bring everyone yummy donuts for a break time snack. While Krispy Kremes are one of Gogi's favorite sweet snacks, for lunch he has another recommendation for his EC friends. For his FCE class, Gogi wrote this review of one of his favorite lunch and dinner time spots called Nexxt.
 Many friends in Switzerland advised me to go to the Nexxt Restaurant on the Lincoln Road. It's not a restaurant where there is only one national specialty. Nexxt is famous for very big salads and a huge assortment of dishes. In Nexxt you will find everything, from pizza and pasta to salmon and lobster. I was there in my first week because it's located just five minutes-walk from the school in the direction to the sea. I really like the location because it is very central and I like the large selection of dishes because I can make myself comfortable, and then decide what I want to eat.
 The restaurant is very popular and especially in the evening there are many people and sometimes you must wait for a free table. Especially then it's very noisy and hectic and sometimes a waiter bumps you when he is running around your table. Perhaps that is the reason why the service is so fast.
 The price is fair because most of the dishes are very big, delicious and well served. My favorite dishes are salmon for $15 and also the two lobsters for $30. Pizzas and big salads cost about $15.
 I recommend going to eat there because it is not much money for really good food.    
Comments
comments