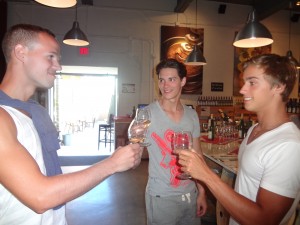 On Tuesday, a small group of EC students gathered at the Wine Depot near Jefferson and 6th street in South Beach to try out some French white wines. The free wine tasting event happens every Tuesday from 6:00-8:00 p.m. and it is a great chance to socialize in a calm, sophisticated atmosphere and to try wines from around the world. We were lucky enough to try the French wines with one of our French students, Rachel.
She, as well as the wine experts, told us about the Alsace region in the Northeast part of France where this specific type of wine is produced. We were able to try a Pinot Blanc, a Reisling, and the famous Alsace wine itself. All students had different opinions of the wines, but everyone agreed that the most famous wine was definitely the sweetest. The wine expert told some of our guy students that the best way to win over a woman is to give them the sweet Alsace wine. We don't know if it would actually work, but it was a funny suggestion!
Even if you don't like French white wines, the Wine Depot wine tasting is a great event because they show different wines every week. You can call ahead on a Monday to make a reservation and to find out what type of wine from which region they will be trying on Tuesday. The number is: 305-672-6161.
If you don't want to attend the tastings, there is also a restaurant patio outside to relax in and a huge selection of wines in the store portion of the Wine Depot. Check it out and let us know what you think or ask any of our students who attended the tasting this week for more information!
Comments
comments