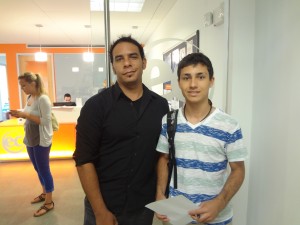 Every time we have a new teacher of the month, we also have a new student of the month. So, we have to say goodbye to May's Student of the Month, Sandro, who is getting ready to take his FCE exam and head back to Switzerland. Now, it's time to say hello to our new Student of the Month, Hugo Mello from Minas Gerais, Brazil, who is in Eric's class. Let's find out more about Hugo's time in Miami.
Hugo's Miami Recommendation
Miami is a great city for you! Actually, I don't know you, but here in Miami you can do anything! If you like sports, you can go; if you like night clubs, your problem will be "which night club today?"; if you like beach, you will see a great one and if you haven't good English, don't worry! Here people are very polite and with goodwill for help you! Enjoy!
Eric's Comments about Hugo
Hugo is very polite and helpful in class, and will always help the students next to him if they need it. HE learns new material very quickly and never hesitates to volunteer an answer or participate in class discussion. I believe his progress will be very impressive here. Yes, we will watch his career with great interest. Watch out! He is a Capoeira master and a hit with all the ladies. At EC he is known as "The Brazilian One." Stand up when he enter the room – he demands respect!
Comments
comments