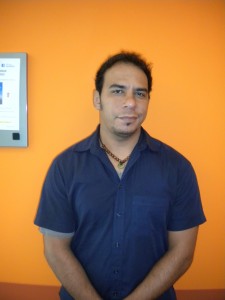 Congratulations to our Teacher of the Month for June – Eric! Eric has taught a few different levels at EC Miami since he started working here, but right now he is our Pre-Intermediate class teacher. He team teaches with Mark, so he also teaches the Intermediate students sometimes. Eric is remembered by many students for a lecture he gave on scuba diving when he allowed students to try on his very heavy scuba gear. Keep on reading to find out more about Eric!
Teacher's Hometown
I was born in Colorado Springs, Colorado, but I don't have a hometown because I moved every 4 years of my life.
Teacher's Miami Recommendations
If you like the outdoors, Miami-Dade Parks has the 3rd largest park system in the U.S. The 263 parks offer nature and environmental experiences, educations and cultural opportunities and sports and fitness activities. South Florida has excellent beaches and water sports activities like fishing, boating and scuba diving. Biscayne National Park, for example, is close to Miami and is one of the best parks for its islands and water activities.
Teacher's English Tip
"A lot" is not a word. Always leave a space. Remember this is a lot of space in outer space. You don't write "alittle" or "adonkey." So, don't write "a lot".
Watch a lot of T.V. and listen to music in English but don't listen to English music. It's terrible. Speak only English in class. Spean ONLY English in class!!! Full immersion will get you full benefits. Speak to native speakers outside of class. Pronunciation is important-but don't lose the accent entirely. If you're single, many people will find it attractive.
Comments
comments