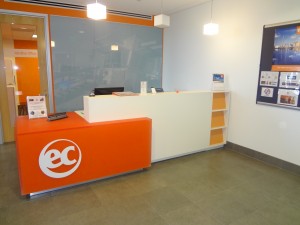 Many students at EC Miami learn how to write descriptive processes or "how to" essays while learning English. "How to" writing is important because it tells someone how to do something clearly. We have many students ask us the question, "How do I print documents at EC Miami?" To help answer this question in a direct, clear way, we decided to write our own "how to" essay to help our students.
1)       First, it is important to know that the student computers in the student lounge do NOT print. Therefore, please do not ask an EC Miami staff member to help you print from those computers.
2)      Come to the front desk and tell the person that you would like to print a document. They will ask you either to email the document to them or to give it to them on a memory stick (USB).
3)      Next, send the email to the person or give them your memory stick and tell them which file you would like printed and how many pages it is. Also, tell them if you want more than one copy.
4)      Remember, that every print costs money, so be clear about exactly how many copies you want printed. The prices for printing are $0.25 per side of a page. So, if you print 1 double-sided (front and back) paper, it will cost you $0.50. If you have exact change it is much better for us!
5)      Finally, give the money to the person at the front desk and take your copies. The person may ask you to come back after break or after class if they are in the middle of something at that moment, but you will get your copies/prints soon!
If you follow these simple steps, you will get your printed document quickly and easily!
Comments
comments