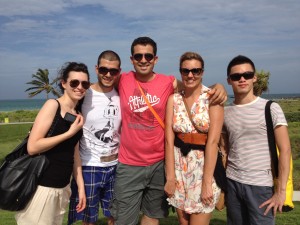 Yesterday, some of our students rented bikes and rode to South Pointe Park with Elisa. All of the students had a great time and enjoyed the beautiful park, even though it was very hot and sticky. We were surprised that many students had never heard of South Pointe Park, so we decided to tell you something about it.
South Pointe Park is the furthest south part of Miami Beach. We know that many of you like to go to the club/bar/restaurant Nikki Beach. The park is near Nikki Beach. If you think about the map of South Beach, EC Miami is around 17th St. while South Pointe Park is located at 1st St. The park is very long but not very wide. It goes all the way from the bay to the Ocean and it ends at Miami Beach.
Many people like to go to South Pointe Park to see a beautiful view of the ocean and the bay. It is a great place to go at sunset. Some people also like to visit the park to see the cruise ships leave the Port of Miami. The boats are huge when you are so close to them.
There are not many places to eat or drink in the park, but there are little ice cream stands and one nice restaurant called Smith & Wollensky's. This restaurant is a little expensive, but it has a good happy hour and you can sit outside and watch the people, the park, the water, and the boats.
So, next time you are going towards the South of Miami Beach, make sure to check out South Pointe Park!
Comments
comments